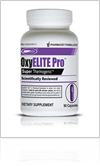 On November 10, 2013 USPLabs, LLC issued a voluntary recall for certain "dietary supplements" marketed under the name OxyElite Pro. Today – November 19, 2013 – USPLabs, LLC expanded the recall to include an additional OxyElite Pro dietary supplement:
Raspberry Lemonade OxyElite Pro Super Thermo Powder
The recall was initiated voluntarily by USPLabs, LLC after a number of consumers using OxyElite Pro products reported cases of acute hepatitis and liver damage. In Hawaii – where the state health department, the U.S. Food and Drug Administration (FDA), and the U.S. Centers for Disease Control and Prevention (CDC) launched an investigation – two cases resulted in liver transplants and one resulted in death.
Since the initial reports surfaced in Hawaii, several other cases of liver injury and liver failure have been reported in other states, as well as in the military community. Last week, one case of reported liver failure in San Diego prompted the San Diego County Health and Human Services Agency to issue a consumer warning for all OxyElite Pro supplements. The FDA had previously released a consumer warning of its own, advising consumers to avoid products labeled OxyElite Pro and VERSA-1.
Although investigations into the precise cause of liver injury are still ongoing, researchers are speculating that an ingredient known as aegeline may be the cause. Aegeline is found in both OxyElite Pro and VERSA-1.
OxyElite Pro Lawyer
The Senators (Ret.) Firm, LLP is providing free consultations to consumers who experienced liver injury – including acute hepatitis and liver failure – after using OxyElite Pro or VERSA-1. For more information about your case, your rights, and how our team of California product liability attorneys may be able to help you recover financial compensation for your losses, call (949) 557-5800 or fill out a free online case evaluation form
A complete list of the recalled OxyElite Pro supplements is as follows:
OxyElite Pro Super Thermo Capsules
2 count capsules UPC #094922417275
10 count capsules UPC #094922417251
10 count capsules UPC #094922417268
21 count capsules UPC #094922426604
90 count capsules UPC #094922395573
90 count capsules "Pink label" UPC #094922447906
180 count capsules UPC #094922447852
OxyElite Pro Ultra-Intense Thermo Capsules
three count capsules UPC #094922447883
three count capsules UPC #094922447876
90 count capsules UPC #094922395627
180 count capsules UPC #094922447869
OxyElite Pro Super Thermo Powder
Fruit Punch 0.15 oz UPC #094922417237
Fruit Punch 0.15 oz UPC #094922447517
Fruit Punch 4.6 oz UPC #094922426369
Fruit Punch 5 oz. UPC #094922447487
Blue Raspberry 4.6 oz UPC #094922426376
Grape Bubblegum 4.6 oz UPC #094922447500
Green Apple 4.6 oz. UPC #094922426499
Raspberry Lemonade 4.6 oz. UPC #094922447494